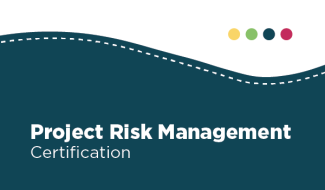 Project Risk Management Certification
It is common to see project teams investing much of their time and effort in solving problems rather than preventing them. Risk management is an area of knowledge for project management that aims to reduce the probability and impact of negative events, and increase that of positive events.

Do you want to develop more successful projects? Get certified in Risk Management in Development Projects and learn to manage events in advance that may affect the execution of a development project.

The content presented in the course is on the Risk Methodology of the Inter-American Development Bank (OP-1699-1), which is based on the Guide to the Fundamentals for Project Management (PMBOK® Guide) from the Project Management Institute, Sixth edition.
Don't miss this chance. Take your career to the next level with our certifications:
Level

Goals

How to get certified?

1: Manager

• Recognize the importance of risk management throughout the life of a project
• Differentiate a risk from a problem
• Identify the risks of a project
• Properly record the risks of a project
• Evaluate risks qualitatively
• Prepare a response plan for prioritized risks
• Monitor and control the risks of a project.

By completing the SPOC Risk Management in Development Projects

2: Advisor

Advise project teams in the application of project risk management in accordance with the risk methodology of the Inter-American Development Bank (OP-1699-1), based on international good practices of the Fundamentals Guide for Project Management (PMBOK® Guide) from the Project Management Institute, Sixth Edition.

By completing the Advanced Workshop for Risk Management Advisors exam.

3: Facilitator

Prepare risk experts to facilitate risk analysis workshops in face-to-face and virtual environments.

By completing the Risk Management Workshop Facilitation