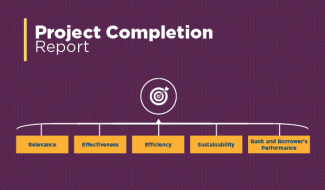 Project Completion Report (PCR)
​
WHY? The Project Completion Report (PCR) is a tool for accountability and learning. The accountability purpose addresses the need for the Bank to ensure that the project resources were used for the purposes for which the project was granted, with due attention to effectiveness and efficiency. The learning goal aims to replicate successes and avoid mistakes in the future by providing recommendations to guide the execution of ongoing projects and the design of future ones.
HOW? The PCR evaluates a project on two sets of criteria and 6 sections:
I. CORE CRITERIA
Section 1 Relevance: Assesses both how well project design and development objectives were aligned with country realities, needs, and the Bank's Country Strategies
Section 2 Effectiveness: Evaluates the extent to which the project achieved its stated objectives. The validity of the anticipated links in the project's logic is tested
Section 3 Efficiency: Evaluates the extent to which the costs incurred in achieving project results were reasonable
Section 4 Sustainability: Assesses the conditions that could influence the continuation of the results already achieved and the achievement of future expected results during the lifecycle of the project
II. NON-CORE CRITERIA
Section 5 Bank's Performance: Evaluates the quality of services provided by the Bank during the life of the project
Section 6 Borrower's Performance: Assess the effectiveness by which the Borrower discharged its responsibilities
WHEN AND WHAT?
The PCR is a record of an operation's performance by the end of its execution phase, undertaken as a self-evaluation by the Inter-American Development Bank (IDB)'s unit responsible for the project, with results independently validated by the Office of Evaluation and Oversight (OVE). The IDB has a target that 70% of projects should have satisfactory development results.
At Operational Closure (CO)
The automated convergence system sends a notification the project leader and other key stakeholders that the PCR preparation must commence. For Policy Based Loans (PBL) PCR preparation may commence up to 24 months after CO
Up to 6 months after Operational Closure (CO)
The PCR is approved and self-rated and sent to the Office of Evaluation and Oversight (OVE)
Up to 6 months and 22 days after Operational Closure (CO)
The PCR is published in the Bank's external website