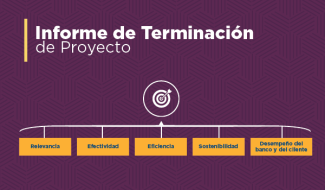 Progress Monitoring Report (PMR)
The PMR is the development effectiveness instrument that project teams use to report an operation's progress from its approval until its closure.
The PMR's quantitative section focuses on the project's outputs and uses physical and cost progress data to rate the execution of each project on an annual basis as "satisfactory," "alert," or "problem". The specific variables used to determine the rating vary depending upon the project's stage of execution. Its qualitative section provides information that explains the circumstances that could positively or negatively affect project performance and effectiveness.
The PMR is also used to report on the corporate results. The IDB has a target that 80 percent of projects should be rated as having "satisfactory" performance.
The following resources will help you understand this instrument's main characteristics and learn how to use it in your projects.