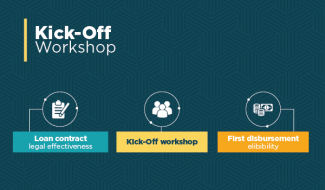 Kick-off Workshop
The kick-off workshop is the forum in which the executing agency and the Bank's project team jointly update operation planning. This exercise helps set the baseline for the project's physical and financial goals. Remember that you cannot modify initial planning in Convergence after 40 days of having reached eligibility for the first disbursement. Therefore, performing the kick-off workshop when the operation is close to obtaining eligibility is recommended. Key members of the Bank's project team and the executing agency must participate in the workshop.

The following resources explain the kick-off workshop under the PM4R methodology, as well as how you can become certified to facilitate kick-off workshops.
Certifications
By completing the trainings related to this topic you can obtain certifications of different levels, which you can share on your professional networks and that can be very important for your role or career development.