Search Panorama Webinars
Seleccione cualquier filtro y pulse Aplicar para ver los resultados
FOCUS
Latin America and the Caribbean
ABOUT THIS WEBINAR
"COVID-19 crisis has highlighted the ongoing global lack of preparedness for dementia, one of the biggest health and social care crises of this and future generations".
In World Alzheimer's Month, as part of Panorama activities we invite you to our next webinar on September 25, at 10:00 AM (EST) titled "Let's talk about dementia in Latin America and the Caribbean".
Paola Barbarino will provide a global perspective on dementia, with a specific focus on Latin America and the Caribbean. During her presentation she will introduce dementia, and how it is positioned within policy surrounding mental health and non-communicable diseases. She will outline the role of Alzheimer's Disease International (ADI) in addressing the global dementia pandemic, and in particular the organization's response to the global COVID-19 pandemic, and finally she will posit potential points of collaboration between ADI and IADB.
See More
See Less
MODERATOR
María Laura Oliveri, Consultora en Protección Social, Banco Interamericano de Desarrollo
PANELIST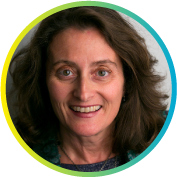 CEO
Alzheimer's Disease International
Paola is CEO of Alzheimer's Disease International. Prior to this, she was CEO of LIFE and occupied senior positions with Cass Business School, Tate, British Library and IIED. She is a Board Member of the World Dementia Council, a Trustee of The Postal Museum and of Lauderdale House. Previously she was a Non-Executive Director of the Non-Communicable Disease Alliance (NCDA), a Trustee of Shelter, the housing/homelessness charity, and of MLA London. She holds a degree cum laude in Classics from Federico II Napoli University, an MA in Field and Analytical Techniques in Archaeology and an MA in Library and Information Science both from University College London.
Access to the presentation