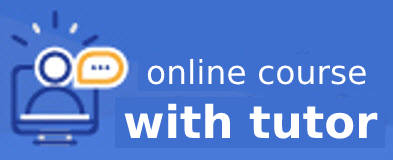 Treinamento para Ensino Online (EM PORTUGUÊS)
You can earn this badge if you successfully complete the course.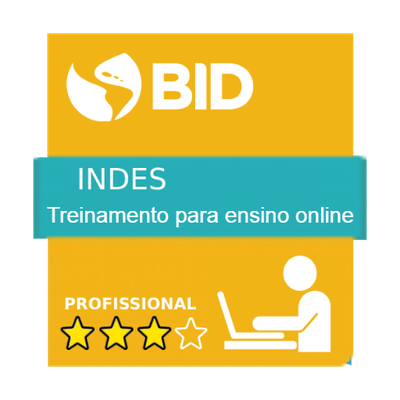 What is an instructor-led online course?
The online instructor-led courses are offered in a personalized mode with a limited number of participants per class. Start and finish dates are clearly marked. Besides the online tools used for interaction in the virtual environment, courses provide students with continuous support from a technical assistant, the tutor and a program coordinator, who are experts in the course topics, and are able to offer effective feedback in all course activities and promote relevant discussion.
ARE YOU IDB EMPLOYEE?
See the courses list with scholarships for IDB employee
COST
US$ 60 à vista/US$120 Regular
TIME COMMITMENT
30 horas en 5.5 semanas
ABOUT THIS COURSE
Edição 5. Os cursos online com tutor seguem um modelo pedagógico com atenção personalizada, com classes de no máximo 30 participantes, com datas específicas de início e fim. Além das ferramentas de interação disponíveis no ambiente virtual, o curso conta com acompanhamento continuo de um assistente técnico, do/a tutor/a e do/a coordenador/a do programa. Nesse modelo, o/a participante receberá feedbacks contínuos em todas as atividades, e terá um ambiente de interação com outros participantes e com o/a tutor/a.
Este curso oferece as diretrizes básicas sobre aprendizagem online para novos tutores que usarão plataformas virtuais de ensino-aprendizagem. O curso abrange as habilidades tecnológicas, bem como os princípios de design instrucional e conceitos pedagógicos, sempre em relação ao ensino online e ao uso do ambiente de sala de aula virtual INDES. Ao longo do curso, os alunos adquirem as habilidades tecnológicas para navegar como estudantes e como tutores na plataforma Moodle. Do mesmo modo, será apresentada a metodologia e boas práticas de desenvolvimento de design instrucional. Finalmente, os alunos aprenderão os princípios básicos e as melhores práticas em pedagogia online, incluindo moderação da discussão, gerenciamento de cursos, feedback para alunos, avaliação de aprendizagem e presença online.
See More
See Less
COST & REIMBURSEMENTS
A taxa de inscrição deste curso é de US$ 60 - já com um desconto especial. Além disso, o BID oferece 10 bolsas de 100% para apoiar a participação e contribuir para o desenvolvimento na região. Para se candidatar a esta bolsa, você deve se inscrever no curso e uma vez que seja selecionado, deve preencher uma pesquisa inicial antes do dia 28 de setembro. O sorteio da bolsa será anunciado no dia 30 de setembro.
See More
See Less
KNOWLEDGE AREAS
COMPETENCIES
Development effectiveness
FREQUENTLY ASKED QUESTIONS