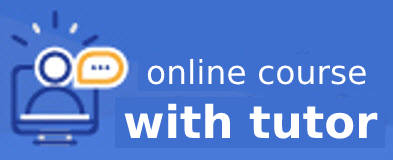 Online Teacher Training for the Caribbean
You can earn this badge if you successfully complete the course.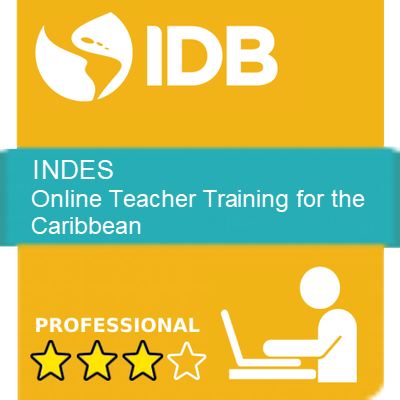 What is an instructor-led online course?
The online instructor-led courses are offered in a personalized mode with a limited number of participants per class. Start and finish dates are clearly marked. Besides the online tools used for interaction in the virtual environment, courses provide students with continuous support from a technical assistant, the tutor and a program coordinator, who are experts in the course topics, and are able to offer effective feedback in all course activities and promote relevant discussion.
ARE YOU IDB EMPLOYEE?
See the courses list with scholarships for IDB employee
COST
$10 Early Bird/ $120 Regular
TIME COMMITMENT
30 hours in 5.5 weeks
ABOUT THIS COURSE
The course covers the main concepts and best practices of online teaching. It covers both technical skills, as well as instructional design and pedagogical concepts.
Learners have the opportunity to apply fundamental concepts and best practices in online pedagogy, with a special focus on online discussions, course management, effective student feedback, learning assessment and online presence.
At the end of the course you will be able to:
Identify the components of an effective virtual learning environment.
Analyze pedagogical and motivational strategies in online courses that serve as a guide for students in virtual asynchronous environments.
Identify and apply good practices to moderate online discussions, considering the different teaching presences.
Identify technology tools and resources that support learning at a distance.
As part of the AcademiaBID portfolio, instructor-led courses, differently than self-paced or massive online courses, are taught by a subject matter expert with demonstrated experience in online teaching. Throughout several weeks, participants have numerous interaction opportunities with the instructor(s) and peers, contributing to a more effective learning experience. Assignments and other learning activities will be reviewed by the assigned instructor(s), who will provide personalized feedback.
See More
See Less
AUDIENCE OF THE COURSE
People with experience in the field of training both onsite and virtual. This course is available to resident of LAC IDB member countries and members of the Caribbean Development Bank (CDB). Interested candidates residing outside of those countries may register but will be placed in a waiting list and given available slots at the end of the registration period. Regional members of the CDB are: Anguilla. Antigua and Barbuda. British Virgin Islands. Cayman Islands. Dominica. Grenada. Montserrat. St Kitts and Nevis. St Lucia. St Vincent and the Grenadines. Turks and Caicos Islands.
See More
See Less
COST & REIMBURSEMENTS
The tuition for the course is US$ 120 (non-refundable). Participants may pay the early-bird fee of US$ 10 for registration by April 11th. After, participants will pay the full price (IDB, through its regional technical cooperation program, subsidizes the overall course). For groups of more than 4 people, a 50% discount will be awarded. This discount applies only to the total value of registration (USD120). The Inter-American Institute for Economic and Social Development (INDES) at the Inter-American Development Bank (IDB) has the mission of strengthening knowledge and skills of strategic audiences in the region, seeking to promote the economic and social development of Latin America and the Caribbean. For this reason, our courses are subsidized between 80% and 95% by the IDB's own resources.
See More
See Less
KNOWLEDGE AREAS
TOPICS
Development of Institutions
Economics and Development
FREQUENTLY ASKED QUESTIONS