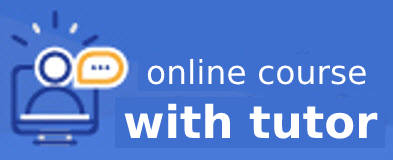 Online Teacher Training
What is an instructor-led online course?
The online instructor-led courses are offered in a personalized mode with a limited number of participants per class. Start and finish dates are clearly marked. Besides the online tools used for interaction in the virtual environment, courses provide students with continuous support from a technical assistant, the tutor and a program coordinator, who are experts in the course topics, and are able to offer effective feedback in all course activities and promote relevant discussion.
ARE YOU IDB EMPLOYEE?
See the courses list with scholarships for IDB employee
COST
$60 Early Bird / $120 Regular
TIME COMMITMENT
30 hours in 6.5 weeks
ABOUT THIS COURSE
The course offers the main guidelines into the practice of online teaching and learning to those interested in teaching in a virtual online classroom. It covers both technical skills, as well as instructional design and pedagogical concepts.
Throughout the course, students will be able to navigate the Moodle platform and identify the best practices in instructional design.
Finally, learners will be able to apply fundamental concepts and best practices in online pedagogy, with a special focus on online discussions, course management, effective student feedback, learning assessment and online presence.
See More
See Less
AUDIENCE OF THE COURSE
People with experience in the field of training both onsite and virtual. This course is available to resident of LAC IDB member countries and members of the Caribbean Development Bank (CDB). Interested candidates residing outside of those countries may register but will be placed in a waiting list and given available slots at the end of the registration period. Regional members of the CDB are: Anguilla. Antigua and Barbuda. British Virgin Islands. Cayman Islands. Dominica. Grenada. Montserrat. St Kitts and Nevis. St Lucia. St Vincent and the Grenadines. Turks and Caicos Islands.
See More
See Less
COST & REIMBURSEMENTS
The tuition for the course is US$ 120 (non-refundable). Participants may pay the early-bird fee of US$ 60 for registration by August 10th. After, participants will pay the full price (IDB, through its regional technical cooperation program, subsidizes the overall course). For groups of more than 4 people, a 50% discount will be awarded. This discount applies only to the total value of registration (USD120).
See More
See Less
KNOWLEDGE AREAS
TOPICS
Development of Institutions
Economics and Development
FREQUENTLY ASKED QUESTIONS