You can earn this badge if you successfully complete the course.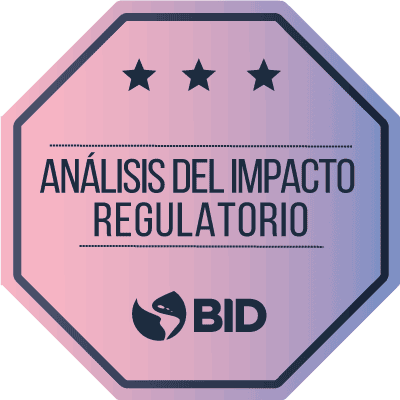 What is an instructor-led online course?
The online instructor-led courses are offered in a personalized mode with a limited number of participants per class. Start and finish dates are clearly marked. Besides the online tools used for interaction in the virtual environment, courses provide students with continuous support from a technical assistant, the tutor and a program coordinator, who are experts in the course topics, and are able to offer effective feedback in all course activities and promote relevant discussion.
ARE YOU IDB EMPLOYEE?
See the courses list with scholarships for IDB employee
TIME COMMITMENT
120 horas
ABOUT THIS COURSE
Este curso tiene como objetivos generales:
Presentar las características principales y la utilidad de la metodología de Análisis de Impacto Regulatorio en el proceso de toma de decisiones. Combinando elementos teóricos y prácticos, se espera que los participantes se apropien de saberes relevantes para entender la importancia de la correcta aplicación de AIR y cómo puede ser integrado en su quehacer regulatorio.​
En este curso se abordaran los principales contenidos teóricos y aspectos de la metodología de AIR aplicada a casos de regulación económica y social.
Cada participante trabajará junto a su equipo país y el tutor en la preparación de un caso piloto de AIR relacionado a la realidad de sus instituciones.
Se espera que los participantes al finalizar el mismo sean capaces de aplicar la metodología de Análisis de Impacto Regulatorio para la toma de decisiones basadas en evidencias en el proceso regulatorio, asegurando que los beneficios económicos sean superiores a los costos regulatorios.
See More
See Less
AUDIENCE OF THE COURSE
- Estudios universitarios ​ - Experiencia mínima en el proceso regulatorio de 2 años como mínimo​ - Contar con suficiente tiempo para realizar el análisis de los casos prácticos de análisis de impacto regulatorio - Cuenta con un nivel mínimo intermedio dentro de la organización de su agencia, que lleve temas de decisión técnica pero que también tenga una interacción con el resto de la agencia reguladora y otras agencias gubernamentales
See More
See Less
KNOWLEDGE AREAS
TOPICS
Development of Institutions
Economics and Development
COMPETENCIES
Critical, Analytical, and Creative Thinking
Development effectiveness
Problem Analysis & Synthesis
FREQUENTLY ASKED QUESTIONS