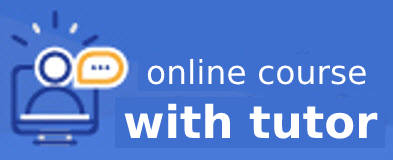 Formación para la Tutoría en Línea
What is an instructor-led online course?
The online instructor-led courses are offered in a personalized mode with a limited number of participants per class. Start and finish dates are clearly marked. Besides the online tools used for interaction in the virtual environment, courses provide students with continuous support from a technical assistant, the tutor and a program coordinator, who are experts in the course topics, and are able to offer effective feedback in all course activities and promote relevant discussion.
ARE YOU IDB EMPLOYEE?
See the courses list with scholarships for IDB employee
COST
USD60 Pronto Pago/ 120 Regular
TIME COMMITMENT
30 horas en 6.5 semanas
ABOUT THIS COURSE
Este curso ofrece las directrices básicas sobre el aprendizaje en línea para nuevos tutores que utilizarán plataformas virtuales de enseñanza-aprendizaje.
El curso cubre tanto habilidades tecnológicas, como los principios de diseño instruccional y conceptos pedagógicos, siempre en relación con la enseñanza en línea y mediante el uso del entorno del Aula virtual del INDES.
A lo largo del curso, los estudiantes adquirirán las habilidades tecnológicas para navegar en la plataforma Moodle. Así mismo, se presentarán la metodología y buenas prácticas del desarrollo de diseño instruccional.
Por último, los estudiantes aprenderán los conceptos básicos y las mejores prácticas en la pedagogía en línea, incluida la moderación de discusión, la gestión de cursos, la retroalimentación a los estudiantes, la evaluación del aprendizaje y la presencia en línea.
Tenga presente que este curso tendrá dos sesiones sincrónicas(es decir sesiones en vivo para conectarse un día y una hora específica a través de videoconferencia), durante la semana inicial y final del curso. Estas sesiones se ofrecen a modo de bienvenida y cierre del curso y son totalmente opcionales, por lo tanto su participación no afectará la calificación final del curso. Recomendamos su participación en estas sesiones para efectos informativos exclusivamente.
See More
See Less
AUDIENCE OF THE COURSE
Este curso está dirigido a tutores y futuros tutores de cursos en línea. El pre-requisito para participar en este curso es acreditar experiencia previa en formación presencial y/o virtual.
See More
See Less
COST & REIMBURSEMENTS
El precio de la matrícula será de USD $60 si se abona antes del 28 de septiembre. Si se abona después del 28 de septiembre, el precio será de USD $120.
See More
See Less
KNOWLEDGE AREAS
COMPETENCIES
Critical, Analytical, and Creative Thinking
FREQUENTLY ASKED QUESTIONS