You can earn this badge if you successfully complete the course.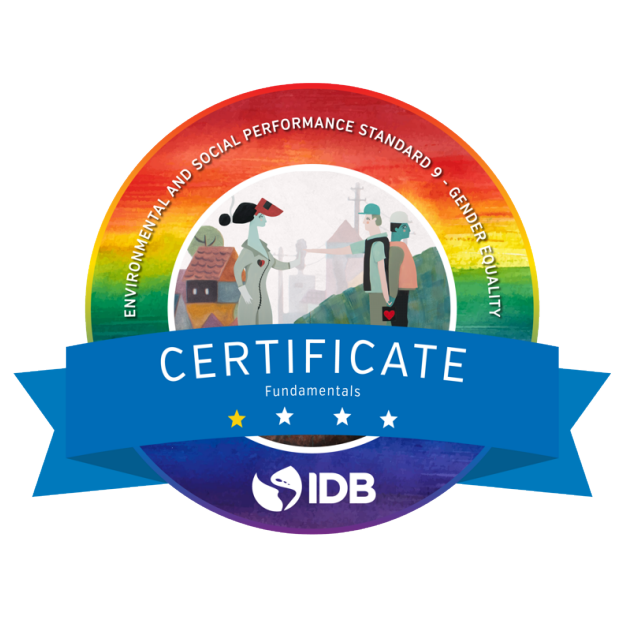 ABOUT THIS COURSE
The environmental and social context of the Latin American and Caribbean region has evolved since the Inter-American Development Bank's (IDB) safeguard policies were developed more than 15 years ago. The Environmental and Social Policy Framework modernizes many of the requirements of those safeguards policies into a comprehensive and consolidated framework that responds better to the environmental and social challenges facing our countries: social inequality, climate change, and the depletion of natural capital. In turn, the new Framework emerges as an opportunity to improve, update, and harmonize environmental and social standards within the IDB group and with other multilateral organizations, so that the borrower must always abide by similar requirements. The IDB's Environmental and Social Performance Standard 9 recognizes that gender equality has intrinsic value. Gender equality is not only an issue of justice and human rights but also a driver of sustainable development. In this course, we invite you to learn about the standard and identify how to apply its requirements for development projects. We hope you enjoy learning.
See More
See Less
PARTICIPANT REQUIREMENTS
Minimum technical requirements to be met by the participant: •1. Be an advanced Internet user able to search, access videos, participate in groups and discussion fora, etc.•2. Own and manage a personal email account to receive notifications and be informed of course developments. •3. Have basic knowledge of gender issues.
See More
See Less
COST & REIMBURSEMENTS
Course valued in $100. Offered by IDB for free.
See More
See Less
KNOWLEDGE AREAS
SECTOR
Agriculture and Rural Development
TOPICS
Management of Social and Environmental Risk
COMPETENCIES
Management of Social and Environmental Risk
FREQUENTLY ASKED QUESTIONS