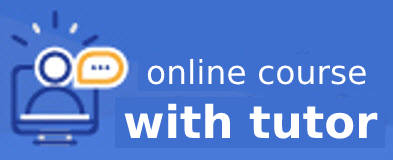 Coordinación de políticas públicas, sus estrategias y herramientas eficaces
You can earn this badge if you successfully complete the course.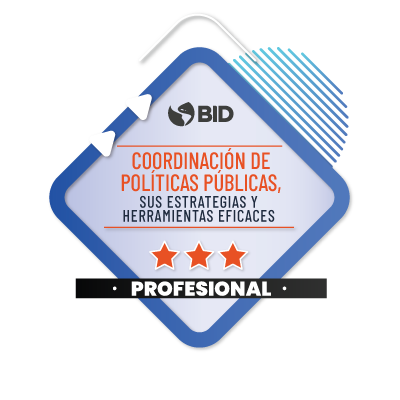 What is an instructor-led online course?
The online instructor-led courses are offered in a personalized mode with a limited number of participants per class. Start and finish dates are clearly marked. Besides the online tools used for interaction in the virtual environment, courses provide students with continuous support from a technical assistant, the tutor and a program coordinator, who are experts in the course topics, and are able to offer effective feedback in all course activities and promote relevant discussion.
ARE YOU IDB EMPLOYEE?
See the courses list with scholarships for IDB employee
COST
USD30 Pronto Pago/ 100 Regular
TIME COMMITMENT
55 horas en 5.5 semanas
ABOUT THIS COURSE
NOTA IMPORTANTE. LEA DETENIDAMENTE ANTES DE COMPLETAR SU MATRICULACIÓN:
Está usted matriculándose al curso anteriormente titulado "Fortalecimiento de la gestión: Coordinación e Intersectorialidad en la gestión de las políticas públicas". Si usted ya ha realizado ese curso, por favor no continúe con el proceso de inscripción, ya que se trata del mismo curso.
Los análisis de políticas públicas coinciden en señalar que los países latinoamericanos han mantenido históricamente una fuerte tendencia hacia la centralización en la formulación de las políticas de gobierno. No obstante, en el último cuarto de siglo, tanto las transformaciones económicas a nivel mundial como los cambios políticos de la transición democrática, contribuyeron a la transformación de los diferentes regímenes impulsando procesos de descentralización y desconcentración. Las nuevas condiciones del contexto impactan fuertemente en el rol de los niveles intermedios en el gobierno, en general, y de las instancias subnacionales en la gestión de las políticas públicas, en particular. A medida que los procesos de descentralización se profundizan, surgen problemas vinculados a la escasa articulación de las políticas públicas y de las instancias de gobierno involucradas y a la baja capacidad de cooperación entre diferentes actores y niveles de gobierno.
Como parte de los productos de aprendizaje del portafolio de AcademiaBID, los cursos tutorizados, a diferencia de los cursos autoguiados o los masivos, son impartidos por una/s persona/s experta/s en la materia con experiencia demostrada en la enseñanza en línea. A lo largo de las semanas de duración del curso, los/las participantes tienen numerosas oportunidades de interacción con el equipo docente y compañeros/as, lo que contribuye a una experiencia de aprendizaje más eficaz. Las tareas y otras actividades de aprendizaje serán revisadas por el equipo docente asignado, quienes estarán brindando comentarios personalizados.
See More
See Less
AUDIENCE OF THE COURSE
Los participantes deberán: a) tener estudios superiores concluidos y b) ejercer responsabilidad gerencial sobre la ejecución de programas sociales a nivel regional, provincial, local o municipal. Los participantes pueden provenir de instituciones públicas (incluidas las de nivel central y nacional, siempre que la responsabilidad de la persona se concentre en la ejecución de programas en el nivel local o regional), gobiernos regionales o provinciales, gobiernos locales o municipales u organismos no gubernamentales.
See More
See Less
COST & REIMBURSEMENTS
El precio de la matricula será de USD $30 si se abona antes del 16 de septiembre de 2022. Si se abona después de esa fecha, el precio será de USD $100. El Instituto Interamericano para el Desarrollo Económico y Social (INDES), perteneciente al Banco Interamericano de Desarrollo (BID), tiene como misión contribuir al fortalecimiento de conocimientos y habilidades de públicos estratégicos de la región, necesarios para promover el desarrollo económico y social de América Latina y del Caribe, por este motivo cada matrícula de nuestros cursos está subsidiada entre un 80% y 95% por recursos propios del BID.
See More
See Less
KNOWLEDGE AREAS
SECTOR
Reform / Modernization of the State
TOPICS
Development of Institutions
COMPETENCIES
Development effectiveness
Organizational management
Problem Analysis & Synthesis
Problem Solving and Innovation
AUTHORS AND COORDINATORS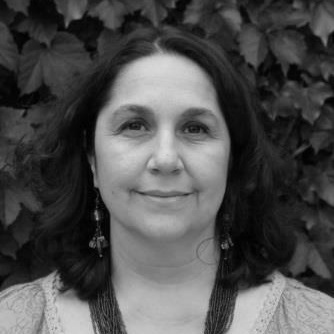 Potenza, María Fernanda
FREQUENTLY ASKED QUESTIONS