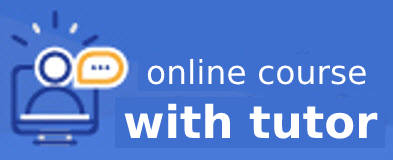 Diseño instruccional para la tutoría en línea
You can earn this badge if you successfully complete the course.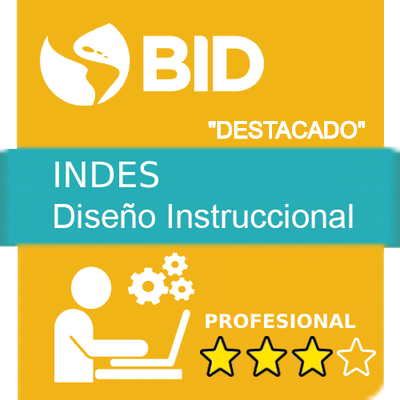 What is an instructor-led online course?
The online instructor-led courses are offered in a personalized mode with a limited number of participants per class. Start and finish dates are clearly marked. Besides the online tools used for interaction in the virtual environment, courses provide students with continuous support from a technical assistant, the tutor and a program coordinator, who are experts in the course topics, and are able to offer effective feedback in all course activities and promote relevant discussion.
ARE YOU IDB EMPLOYEE?
See the courses list with scholarships for IDB employee
ALSO OFFERED
Por definir en 2023
COST
$10 pronto pago $120 regular
TIME COMMITMENT
90 horas en 6.5 semanas
ABOUT THIS COURSE
Este curso pretende desarrollar habilidades para el diseño instruccional de programas formativos que operan en entornos virtuales de aprendizaje, y convertirse en una respuesta a la demanda educativa actual, que hace un uso cada vez más intensivo de los beneficios de la tecnología. Su propósito es, por tanto, que el tutor o docente en línea sea capaz de ejercer su rol como planificador de la enseñanza, determinando la necesidad educativa de sus alumnos y del contexto, organizando de manera sistemática los elementos necesarios de la acción instruccional, con la finalidad de garantizar los aprendizajes deseados, tomando en cuenta el conocimiento de la ciencia en estudio y haciendo uso de los recursos y herramientas que proveen los ambientes virtuales de aprendizaje. Al finalizar el curso el participante desarrollará una propuesta de diseño instruccional factible, sobre una necesidad instruccional detectada, observando los lineamientos requeridos por el modelo seleccionado, e incluyendo los aspectos más relevantes de la teoría psicoeducativa que lo fundamenta. Objetivos generales: 1. Analizar el proceso de diseño instruccional para entornos virtuales de aprendizaje, sus componentes y dimensiones. 2. Analizar las particularidades de los principales modelos de diseño instruccional. 3. Relacionar los principales planteamientos teóricos del aprendizaje con el diseño instruccional. 4. Crear y evaluar la propuesta de diseño instruccional de un curso en línea considerando sus dimensiones tecnológica, pedagógica y comunicativa. 5. Analizar las posibilidades de implementación del diseño instruccional en entornos virtuales de aprendizaje. El curso Diseño Instruccional para la Tutoría en Línea promueve la planeación de un programa de formación en línea, basado en una necesidad real detectada dentro de la institución educativa, o el centro de capacitación donde labora el(la) participante. Las actividades que se desarrollan a lo largo de las 6 semanas de estudio, permiten articular paulatinamente los elementos del curso y dan cuenta de los aprendizajes obtenidos. Por lo tanto, es indispensable que el(la) participante tenga un proyecto concreto que desee consolidar al final del curso; solo de esa manera se garantiza el logro del objetivo general.
See More
See Less
AUDIENCE OF THE COURSE
Este curso está dirigido para aquellas personas que ya posean competencias para la tutoría de cursos en línea o alguna formación equivalente. En consecuencia, el participante debe: • Tener interés en capacitarse para articular programas de formación en blended learning o e-learning, independientemente del nivel académico o del área de conocimiento. • Tener experiencia en la docencia en línea o presencial o en el diseño de programas educativos para entornos soportados por tecnologías. • Dominar el uso de la ofimática básica. • Ser capaz de comprender textos escritos en idioma inglés. • Dominar el uso de plataformas tecnológicas para el aprendizaje con el rol de creador de cursos. • Ser capaz de localizar, seleccionar y utilizar aplicaciones tecnológicas y recursos de acceso libre, con fines educativos.
See More
See Less
COST & REIMBURSEMENTS
El curso tiene un valor de 120 USD. Si el pago se realiza antes del 1 de enero de 2023 podrá optar a un descuento por pronto pago, se cobrará únicamente 10 USD. El Instituto Interamericano para el Desarrollo Económico y Social (INDES), perteneciente al Banco Interamericano de Desarrollo (BID), tiene como misión contribuir al fortalecimiento de conocimientos y habilidades de públicos estratégicos de la región, necesarios para promover el desarrollo económico y social de América Latina y del Caribe, por este motivo cada matrícula de nuestros cursos está subsidiada entre un 80% y 95% por recursos propios del BID.
See More
See Less
KNOWLEDGE AREAS
COMPETENCIES
Critical, Analytical, and Creative Thinking
AUTHORS AND COORDINATORS

Ponce, María

Porto, Stella
FREQUENTLY ASKED QUESTIONS